I didn't plan at all to do this recipe, but I wanted something different that the usual "avocado and shrimps with mayonnaise" starter. So after a few researches, I ended up by mixing several recipes, and that's the result I got:
Ingredients for 4 portions:
2 avocados
300 g of shrimps (keep 4 on the side to decorate the dish)
1 large onion
1 lemon juice
70 cl of chicken stock
Salt, pepper
10 cl of crème fraîche
1 teaspoon of curry powder
1 teaspoon of olive oil
Times:
Preparation: 20 mins
Cooking: 25 mins
Rest: none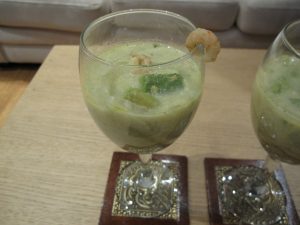 1- Chop the onion finely and pan fry them for 3 to 4 minutes with the olive oil, the shrimps, salt and pepper.
2- Cut the avocados in 2, remove the flesh with a large spoon and cut it into small squares. Add the to the previous mixture, as well as the curry powder, and stir well.
3- Leave into the heat for 2 more minutes, then add the chicken stock, stir a little bit and bring to boiling point. One it is boiling, keep it uncovered over low heat for 15 minutes.
4- Add the crème fraiche and leave it on the fire for another 5 to 10 minutes (don't forget to stir regularly). It's ready, bon appetite!