I have been feeling a bit nostalgic recently; I think I need holidays! Thankfully I have some coming soon, but with the joy of the holidays, usually comes the fear of the bikini… yeah, I really should start to take that seriously as I don't have much time left to lose those 2 kg! From now on, it's gonna be salad for diner. Starting with this one, that I like very much as it is a Lebanese recipe. A quick call to my grandma to have her recipe, and I am good to go!
Ingredients for 4 portions:
6 tomatoes
1 large cucumber
1 onion
Some radish (optional)
1 bunch of parsley
1 lettuce
3 or 4 garlic cloves
1 teaspoon of sumac (Lebanese spice) (I usually put a more as I love it, but that's up to you)
1 or 2 tablespoons of fresh or dry mint
1 lemon juice
1 tablespoon of vinegar
2 to 3 tablespoons of olive oil (you can put more if you wish, I personally don't like it very oily)
Lebanese bread (like pita but thinner)
Salt
Times:
Preparation: 30 mins
Cooking: none
Rest: none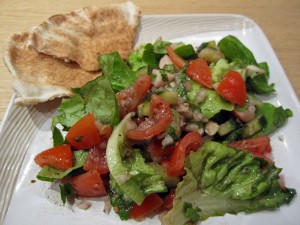 1- Wash the tomatoes, cucumber and radish. Cut the tomatoes in small bits and remove the seeds. Peel the cucumber alternating the strips, cut it across its length, and then each strips into small pieces. Cut the radish into quarters, chop the onions finely, and put everything into a large salad bowl.
2- Wash the parsley and the salad, chop them and add them to the vegetables. Squeeze the garlic cloves and add the to the salad with the sumac, the mint, and mix a little bit. Add the lemon juice, the vinegar, the olive oil, some salt, and give it a good swirl.
3- Last but not least: the bread. This step of the recipe is to be done just before serving the salad to keep the bread crispy: put the bread into a preheated oven for a few minutes (you can also use a grill pan over the hob), when it is crispy, crumble it over the salad, mix, and bon appetite!