At first, this recipe looked boring to me, but the more I was reading, the more I was « mmh actually why not? ». For once there's not mayonnaise involved in the avocado/prawns mix. And the « piment d'Espelette », the finest French chilli must be the little something that is needed to spice up this recipe. I tried it already several times now, and I think I have another winner!
Ingredients for 4 portions:
4 slices of smoked salmon
2 medium avocados
16 cooked prawns
20 small radishes (+4 for decoration)
2 lemons
Some chive leaves (+4 for decoration)
½ teaspoon of sea salt
2 large pinch of piment d'Espelette
3 tablespoons of olive oil
Times:
Preparation: 20 mins
Cooking: none
Rest: none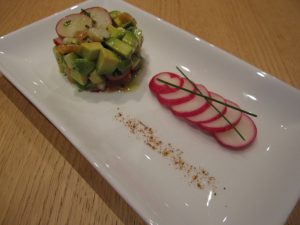 1- Chop the salmon and the prawns in small pieces. Wash and cut the radishes in very thin slices. Chop finely the chives and put all those ingredients in a large bowl.
2- Cut the avocados in two, remove the flesh with a tablespoon and cut it into small pieces. Pour 1/2 a lemon juice over and mix, and add to the large bowl.
3- Add the olive oil, one lemon juice, salt and piment d'Espelette, and mix gently. Keep in the fridge. I like to serve that starter in a small plate, shaped with a pastry cutter, with 1 leave of chive across it and a sliced radish on the side.