I have never used mascarpone before this recipe. I even have no clue of its texture as the only dessert I know with mascarpone is tiramisu and I don't like it. There's a first time for everything, and this recipe really inspired me. The ingredients included only mascarpone, but I found it way to heavy on digestion, so I changed it a little bit by cutting the cheese with yogurt, and by reducing the amount of sugar. And it's a win: both my parents and parents in law loved it!
Ingredients for 6 portions:
150 g of mascarpone
100 g of yogurt
3 eggs
2 lemons
1 lime
75 g of sugar
One pinch of salt
A few biscuits (digestive or speculoos): for the bottom of the ramekins (1 to 2/ramekin)
A few mint leaves (optional)
Times:
Preparation: 20 mins
Cooking: none
Rest: 3 h
1- Wash the fruits. Squeeze the lemon juice and chop finely the lime zest.
2- Separate the eggs yolks from the whites, put the whites aside and beat the yolks with the sugar until creamy.
3- Add the mascarpone with a spoon, then the yogurt and stir well until well combined. Then add the lemon juices and half of the lime zest and mix well with a whip.
4- Add a pinch of salt on the whites and beat them vigorously (I always use a mixer for that) until they become foamy and firm. Add one big spoon of foamy white on the lemony mixture and stir gently, then add the rest one or two spoon at the time and keep stirring gently to incorporate the whites without breaking them.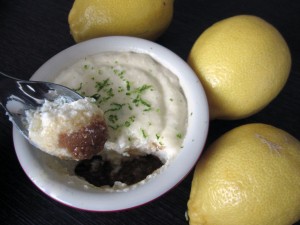 5- Crumble one or two biscuits into each ramekin, and pour the mousse evenly. Place in the fridge for at least 3 hours to let it set. Just before serving, spread a little bit of lime zest on the top, and bon appetite!