I never was a big fan of butternut squash, or pumpkin, or any of those types of vegetables. Never tried it, never wanted to. It's one of those things where just the look of it pulls you off. Until one day, my mother in law had prepared a pumpkin soup, that was it, I was cornered, no choice but to at least try… So I tried, and what a surprise, it was actually delicious! Since then, I tried several recipes with this ingredient, and that one is definitely one of my favourite.
Ingredients for 6 portions:
1,5 kg of butternut (roughly 2 small ones)
200 g of lardons (or ham if you want the healthy option)
1 large onion
100 g of button mushrooms
3 eggs
20 cl of crème fraîche
150 g of grated Gruyere
1 glass of vegetables stock
1 teaspoon of cumin
Salt, pepper
1 teaspoon of nutmeg
Times:
Preparation: 30 mins
Cooking: 30 mins
Rest: none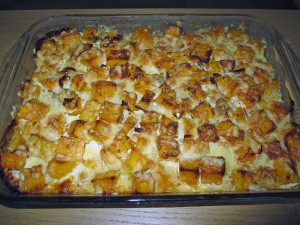 1- Peel the squash, remove the seeds and cut it into squares (2 to 3 cm size). Cut the mushrooms in four, and chop the onion.
2- If you are using lardons: cook them in a hot pan for 5 minutes and dry them on a kitchen towel. Then place the onion in another hot pan with 1 teaspoon of oil and cook it for 2 to 3 minutes. Add the mushrooms, and the lardons and cook for 3 more minutes while stirring. (if you are using ham, just cut it into strips and add it straight away to the onion without cooking it first)
3- Add the butternut and the vegetable stock, stir a little bit and let it cook covered for 15 minutes over medium heat. Don't forget to stir from time to time.
4- While the butternut is cooking, preheat the oven at 180 Celcius degrees. In a large bowl, beat the eggs, the crème fraiche, the spices, salt and pepper.
5- After 15 minutes place the vegetables into a large greased baking dish and pour over the eggs/crème fraiche mixture. Finish off by spreading the grated Gruyere evenly, then put in the oven for 30 minutes. You can enjoy this dish either on its own, or with a fresh green salad.