I love feta cheese, even though for some reasons I rarely use it in my kitchen. I received a series of small but inspiring books for my birthday last year, and this recipe was one of the first (but not the last!) I tried. I hope you will enjoy it as much as I did.
Ingredients for 4 portions:
The salad:
400 g of green beans
1 red onion
8 radishes
100 g of feta (drained)
A couple of cherry tomatoes
2 tablespoons of fresh coriander
1 tablespoon of fresh oregano
Pepper
The sauce:
3 tablespoons of olive oil
1 tablespoon of vinegar
Fresh bread
1 pinch of nutmeg
Times:
Preparation: 15 mins
Cooking: 10 mins
Rest: none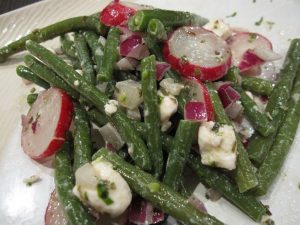 1- Steam the green beans for 6 to 8 minutes (depending how crunchy you want them), drain them and put them into a large bowl. Chop the coriander and the oregano and add the to the beans.
2- Chop the onion, slice the radishes, cut the feta into small cubes, add everything into the bowl with some pepper and stir well.
3- The sauce: mix in a bowl the olive oil with the vinegar, the nutmeg and the salt. Pour on the salad and stir gently.
4- Spread into 4 plates, decorate with cherry tomatoes cut in half and enjoy with toasted bread.