A couple of years ago while I was visiting my parents, my mum and I were doing what we loved the most at that time: shopping! Any type of shopping, clothes, make-up, kitchen, name it, we've done it! 😛
That day we went into a shop called "du bruit dans la cuisine", they have a lot of cute and practical kitchenware. Among them those little disposable verrines, which I fell in love with! (Or maybe it was their price, as they were one of the rare thing I could afford in this shop at that time! 😛 ). Here is the first recipe I did using those verrines.
Ingredients for 8 verrines:
2 avocados
100 g of grated surimi
½ lime juice
50 g of soft cheese (roughly) like Philadelphia
3 tablespoons of crème fraiche
1 teaspoon of fresh chopped dill
2 slices of smoked salmon
Salt, pepper
Times:
Preparation: 15 mins
Cooking: none
Rest: none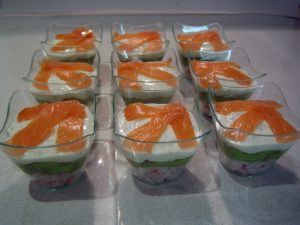 1- Cut the avocados in two, remove the flesh and smash it with the lime juice.
2- Mix the cheese, the crème fraiche and the dill, add salt and pepper and mix again.
3- Spread evenly into the verrines the grated surimi, the avocado puree, then the crème fraiche mixture, and finish of with small slices of salmon on the top to decorate.