Last fall I decided to try to eat more fish, at least once a week (even if I am aware it should be 2 to 3 times! Let's do baby steps here). Not the finger fish (I love them though!) or the fatty salmon (even though very good for your health), but just normal fish, like cod, or sea bream. I am not a fish expert, far from that, so I had to find something quick and easy, like this recipe. I hope you will give it a try, I know I did and I don't regret it!
Ingredients for 4 portions:
4 cod filets
6 shallots
1 tablespoon of mustard
10 cl of crème fraiche
Salt, pepper
1 lemon (optional)
Times:
Preparation: 10 mins
Cooking: 25 mins
Rest: none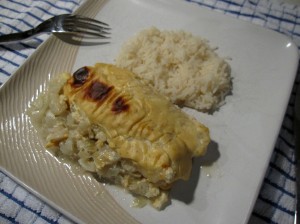 1- Preheat the oven at 180 Celsius degrees. Chop the shallots finely and place them into a greased baking dish (I use not more than a teaspoon of sunflower oil for that). Place the cod filets on the shallots.
2- In a bowl, mix well the mustard with the crème fraiche, salt and pepper, and spread it evenly over the fish fillets.
3- Bake for 25 minutes and enjoy hot with rice, mashed potatoes or steamed vegetables as a side dish. And last but not least: a dash of lemon juice on the fish!