I think broccolis were in the top 10 of things I would never ever eat when I was a kid… and actually, that was true even when I became a young adult. I couldn't get myself into even trying them. Until one day, a couple of years ago, I was invited for lunch, and here they were… the broccolis, and that was the kind of lunch where you couldn't say, "no thank you I don't eat that" without sounding rude. So no choice, I had to eat them and they were actually ok. Since then, I started incorporating them in my cooking, starting with this recipe, which became kind of my signature dish.
Ingredients for 6 portions (26 cm diameter tart tin):
1 short crust pastry
5 to 7 slices of smoked salmon (about 175 g)
400 g of broccolis
100 g of grated cheese (cheddar or gruyere)
200 ml of crème fraîche
2 eggs
½ teaspoon of cinnamon
Salt, pepper
Times:
Preparation: 20 mins
Cooking: 40 mins
Rest: none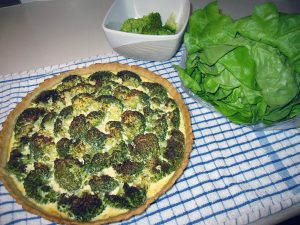 1- Wash the broccolis and steam them for 5 minutes (or cook them into boiling water for 5 minutes and then drain the water, I prefer steaming them as they keep more nutriment and vitamins).
2- Roll out the pastry and line a 26/28 cm round greased tart tin. Prick the pastry case all over with a fork, to prevent air bubbles forming during baking.
3- Spread the cheese evenly, put the salmon slices over the cheese and finish off with the broccolis that you will place in circle (see pictures).
4- Preheat the oven at 180 Celsius degrees. Mix the eggs, the crème fraiche, salt, pepper and cinnamon together in a bowl, and spread over the tart. Bake for 35 to 40 minutes. You can have a slice of this yumminess warm or at room temperature (I prefer it warm as far as I am concerned), with a green salad.