I had those roulades for the first time at my in-laws, a couple of years ago. For a long time I was hesitant to try to cook them myself as they seem quite complicated to do until one day I just threw myself in the water, and the result wasn't actually too bad. Meat lovers, that's a perfect recipe for you!
Ingredient for 2 portions:
4 very thin cut beef steaks
4 slices of bacon (or smoked ham if you want to go for a healthier option)
Half an onion, chopped
3 to 4 tablespoons of chopped parsley
15 cl of red wine
1 beef cube stock (like Maggi or Knorr)
4 teaspoons of mustard
2 chopped garlic cloves
Salt, pepper
Thyme, or any other herbs of your preference
Kitchen strings
Times:
Preparation: 20 mins
Cooking: 45 mins
Rest: none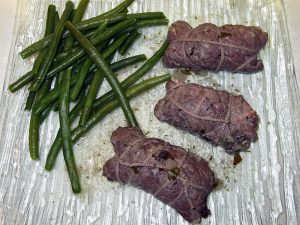 1- Mix the parsley, the onion, the garlic, salt and pepper. Cut 4 strings of about 70 cm each.


2- Flatten the meat with a mallet or rolling pin. On each steak: Spread 1 teaspoon of mustard (leaving 1 cm on the edge), lay one slice of bacon on the mustard, and one tablespoon of the onion/parsley mix on the bacon.

3- Roll up each slice of meat and tie up with the 70 cm string (see pictures).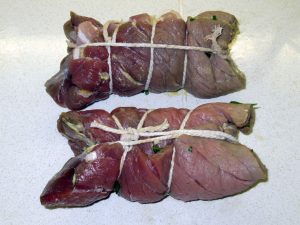 4- Sear the tied roulades into a hot stew pot with a little bit of oil (1 tablespoon max) over high heat for a couple of minutes, you just want to quickly brown the surface, not cook the inside of the roulade. If you have some left over of the onion/parsley mix, you can also add it in the pan.
5- Crumble the cube stock into 20 cl of hot water and pour into the stew pot with the red wine, salt, pepper, the herbs, mix a little bit, and let it boil. When it's boiling, lower the heat to medium heat, and let cooked covered for about 45 minutes to an hour.
Meat lover, it's ready! Dig in!