Usually not a big fan of the sweet and sour mix, I was yet curious about this recipe so I tried it. It was good, I wouldn't have it everyday, but from time to time why not, it's a bit different than the traditional way of cooking chicken.
Ingredients for 4 portions:
4 chicken breasts
2 oranges
2 lemons
3 garlic cloves
2 tablespoons of soya sauce
2 tablespoons of olive oil
1 tablespoon of honey
2 tablespoons of chopped fresh thyme
Pepper
Flaked almonds or pine nuts
Times:
Preparation: 10 mins
Cooking: 30 mins
Rest: 1 h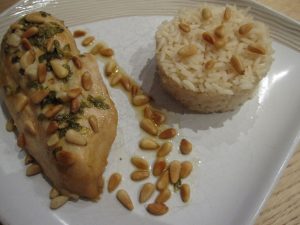 1- Squeeze the lemons and the oranges. Peel and chop the garlic gloves.
2- Mix the lemon and orange juices with the olive oil, the soya sauce, the honey, the garlic, the thyme and the pepper in a small bowl.
3- Place the chicken breast into a greased dish and pour the marinade over. Cover with cling film and leave in the fridge for an hour.
4- Preheat the oven at 210 Celcius degrees. Put the dish in the oven for about 30 minutes, and turn the chicken breast up side down after 15 minutes.
5- In the meantime grilled the flaked almonds, and served the chicken breasts hot with almonds spread over.