I stole this recipe from my father-in-law, last time we went over to visit them. One more thing that I learnt to like: the chicory. I knew I liked it mixed in a soup, but didn't like them in a salad. I changed my mind though, after trying this one, which became one of my favourite salad.
Ingrédients for 3 portions:
4 chicories
30 g of pecans
1 hard-boiled egg
1 to 2 tablespoons of lemon juice
2 tablespoons of olive oil
1 teaspoon of mustard
Salt, pepper
A little bit of blue cheese (optional)
Times:
Preparation: 15 mins
Cooking: none
Rest: none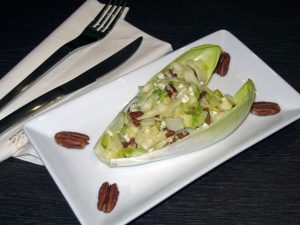 1- Cut the chicories in half, get rid of the trunk, keep to leaves on the side (optional: to decorate the plate) and chop the leaves finely. Wash and drain properly and place in a large bowl.
2- Chop the pecan roughly, mash the egg with a folk and add them to the salad.
3- In a small bowl, mix the lemon juice with the mustard, olive oil, salt and pepper together until the dressing is creamy.
4- Add the dressing to the salad and stir. It's ready! You can serve this salad with one whole chicory leaf on the side of the plate and some bits of blue cheese spread over. Bon appetite!