I try to add carrots from time to time in my diet, as they are rich in Beta-carotene and a good source of antioxidant agents. Most of the time I have them as appetizer with salt and lemon juice, but not tonight. Tonight I want to spice up a little bit my carrots and for that, I am going to try this recipe that I saw sometimes ago on a French cooking channel.
Ingredients for 4 portions:
8 carrots
2 teaspoons of cumin
½ of a lemon juice
1 bunch of fresh coriander
3 garlic cloves
2 tablespoons of olive oil
Times:
Preparation: 15 mins
Cooking: 15 mins
Rest: none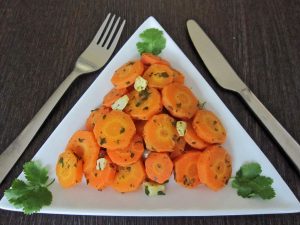 1- Peel and wash the carrots and cut them finely into thin slices. Put the carrots into boiling water for 10 to 15 minutes (you can prick with a knife to test if they are cooked but be careful not to overcook them).
2- In the meantime, chop the coriander and the garlic and mix them together.
3- When the carrots are ready drain them, and put them in a hot pan with one tablespoon of olive oil for 2 to 3 minutes. This step will allow to completely get rid of the humidity. Then let them cool down for a couple of minutes.
4- Put the carrots, the coriander, the garlic, the cumin, the lemon juice and one tablespoon of olive oil in a large salad bowl and mix well to reveal all the flavours. I like that salad either a when it is still a little bit warm, or at room temperature.