I love the petits suisses, they are part of my childhood memory! That's why I really wanted to try this recipe. I haven't done it for a while though; there are so many recipes to try! Don't get me wrong, it doesn't mean that I didn't like it, on the contrary, that's why I am sharing it with today.
Ingredients for 6 portions:
400 g of petits suisses
2 egg whites
1 teaspoon of vanilla extract
1 teaspoon of vanilla sugar
½ a lemon juice
1 large mango
1 kiwi for decoration
Times:
Preparation: 15 mins
Cooking: none
Rest: none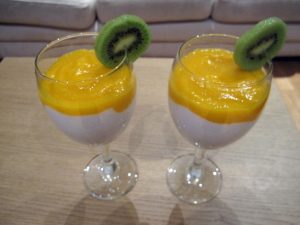 1- Beat the petits suisses with the vanilla extract and the vanilla sugar.
2- Mix the egg whites until firmly foamy, and add them little by little to the petits suisses mixture, gently with a spoon.
3- Peel the mango, cut it into pieces and mix them with the lemon juice until creamy.
4- Fill your ramekins (or any other small recipients) with the petits suisses mousse up to two third, then fill the last part with the mango coulis, and finish off with a slice or two of kiwi. Keep it refrigerated for at least 2 hours before eating.