Even if I try to keep it "healthy" to a minimum level, according to the name of my blog, I should have more recipes involving chocolate. This one for example, is one of my favourite, even though I really don't do it often, or at least not as often as I would like, but that's for my scale's sake! 😛
Ingredients for 6 portions:
200 g of dark chocolate
4 eggs
175 g of sugar
100 g of butter
3 tablespoons of flour
Icing sugar
Times:
Preparation: 15 mins
Cooking: 20 mins
Rest: none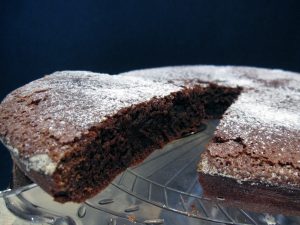 1- Preheat the oven at 180 Celsius degrees
2- Melt the chocolate in a bain-marie (don't let the water boil, only simmer).
3- Remove from heat and add the butter cut in small pieces and stir until completely combined.
4- In another bowl, beat the eggs and the sugar until smooth and creamy. Then add the melted chocolate and mix again.
5- Add the flour and stir gently with a large spoon. Pour the batter into a greased and floured tin cake, (about 22 cm diameter) and in the oven for 20 minutes (keep an eyes on the cake regularly).
6- Remove from oven and let it cool down before taking it out of the mould. This cake is good at room temperature, and even better with a scoop of vanilla ice cream.