Carrot cake always sounded funny from the other side of the tunnel. So I couldn't fit 100% into my new culture if I didn't at least give it a try myself! It is like going to France and not having cheese and wine at least once! 😛
After some research and some tests, behold my winner!
Ingredients for 8 to 10 portions:
Cake:
300 g of peeled carrots
200 g of grounded almonds
50 g of choped pecans
4 eggs
60 g of flour
120 g of brown sugar
1 lemon
1 pack of baking powder
½ teaspoon of salt
1 small teaspoon of grounded cinnamon
Frosting:
1 egg white
125 g of icing sugar
Half a lemon juice
Times:
Preparation: 20 mins
Cooking: 55 mins
Rest: none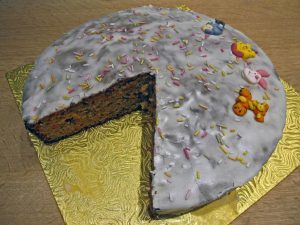 Cake:
1- Preheat the oven at 180 Celsius degrees. Grate the peeled carrots (I use a food processor for just a couple of seconds.
2- Separate the white from the egg yolks. Mix the yolks with the sugar until creamy and fluffy. Add the baking powder, the cinnamon and the salt to the flour, then add them to the egg yolks. Mix well.
3- Add the lemon zest, the grounded almonds, the pecans and mix well between each ingredient.
4- Add the carrots and the lemon juice and mix again.
5- Beat the whites until foamy and firm and incorporate it gently to the batter.
6- Pour the batter into a greased and flowered tin and into the oven for about 55 minutes (if you are using a silicone mould there is no need to grease it).
Frosting:
7- Wait until the cake is baked, and cooled down before starting the frosting, as it will not set if you spread it over a warm cake.
Beat vigorously the egg white with the sugar and the lemon juice until creamy, and spread it evenly over the cake (the colder the cake the better). Let it dry in the fridge.