When I was a kid, my mum used to buy us apple compote from a famous brand, which all the kids (me included) loved! I am feeling a little bit nostalgic today, and thought to give it a go and make my own compote, let's be crazy! 😛
I found some recipes online, but they all look awfully heavy loaded in sugar, so I decided to make up my own, and add my personal touch to it: less sugar, more fruits!
Ingredients for 6 to 8 portions:
8 apples (golden)
2 or 3 bananas (depending on how intense you want the banana flavour)
2 teaspoon of vanilla infused sugar
50 g of sugar
1 small glass of water
Juice of half a lemon
1 teaspoon of cinnamon
2 tablespoon of honey (optional)
Times:
Preparation: 20 mins
Cooking: 30 mins
Rest: none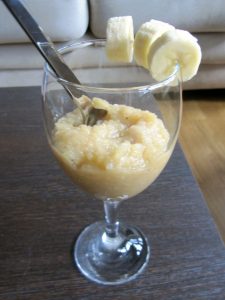 1- Wash and peel the apples, take out the trunk and cut them into pieces. Cut the bananas into pieces as well and add all the fruit in a pan with the sugars and the water, and let it cook covered at medium heat for 20 minutes. Don't forget to stir regularly to make sure it doesn't attach to the bottom of the pan. Reduce the heat a little bit if necessary.
2- 5 minutes before the end add the cinnamon and the lemon juice (and the honey if you chose to put some) and keep stirring.
3- After 20 minutes remove from heat and let it cool down. Then mix the fruits either with a folk if you like the compote a bit crunchy, or with a food processor if you like it smooth.
4- Keep it in the fridge for at least half an hour before enjoying it.