I have some courgettes left from the ratatouille I did a couple of days ago (I can never get it right, always too much of this or of that). And I wanted to do something a little bit different than cooking them either in a tart, or a flan, or in a ratatouille! So I decided to go for the spaghetti style, and to push the boldness and have them uncooked!
Ingredients for 2 portions:
1 courgette
12 pecans
1 garlic clove
1 tablespoon of balsamic vinegar
1 to 2 tablespoons of olive oil
1 tablespoon of lemon juice
1 pinch of salt
Times:
Preparation: 15 mins
Cooking: none
Rest: none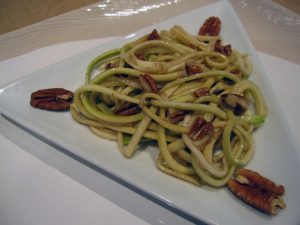 1- Wash and peel the courgette, grate it in large strips, then cut them in « julienne » (each strip into thinner strips) and put them in a bowl. Crush roughly the pecans, and add the to the courgette.
2- Chop the garlic and add it to the courgette with the oil, the lemon juice, the vinegar and the salt and mix everything together.
3- This salad is already super yami like that, but it is even better after having spent an hour in the fridge!